The 25-year-old musician and star Selena Gomez who last week said she'd undergo a secret kidney transplant earlier this summer as she continues to battle Lupus has just been named the new face of Puma.
On September 14, Selena announced that she had undergone a kidney transplant due to her lupus-related illnesses, with her best friend Francia Raisa being the donor.
Selena's mother Mandy Teefey took to Instagram on Sunday to reflect on her daughter's operation, calling Raisa a 'new daughter' due to her kindness.
She wrote: 'As a mother I was helpless, scared and all I could do was pray for both of them, Francia's beautiful family.
'Selena gained a kidney, I was able to keep my little girl, but I also gained another daughter….thank you to everyone who was there for Sel, Francia and our families.
The news of Selena Gomez as puma face was disclosed by her boyfriend The Weeknd  on their Instagram page, with the caption: 'welcome to the fam, @selenagomez'
Officially a part of the fam @puma#pumapartner
'Officially a part of the fam @puma #pumapartner', Selena wrote on her own Instagram page.
The star's supportive partner The Weeknd, 27, proudly re-posted the shot and added a row of slyly-smiling emoji faces.'
The long-term partnership with the brand was announced on Monday, and Gomez shared a photo from the new campaign on her Instagram account. She also opened up to Vogue about her laidback approach to style and how it has changed in the past year"etonline report.
Global Director for Brand and Marketing for PUMA, Adam Petrick said,'Selena is authentic, creative, talented, and fearlessly real. She is everything that today's female consumer is looking for in a role model.
The Singer said, "I started just wanting to feel grounded. I took some time off, and I needed to kind of take a moment for myself because all of this has been overwhelming," said Gomez, who recently revealed she underwent a kidney transplant for her Lupus. "So I used to just walk around my house barefoot or with socks, and everywhere I would go, I would wear a sneaker from that point on."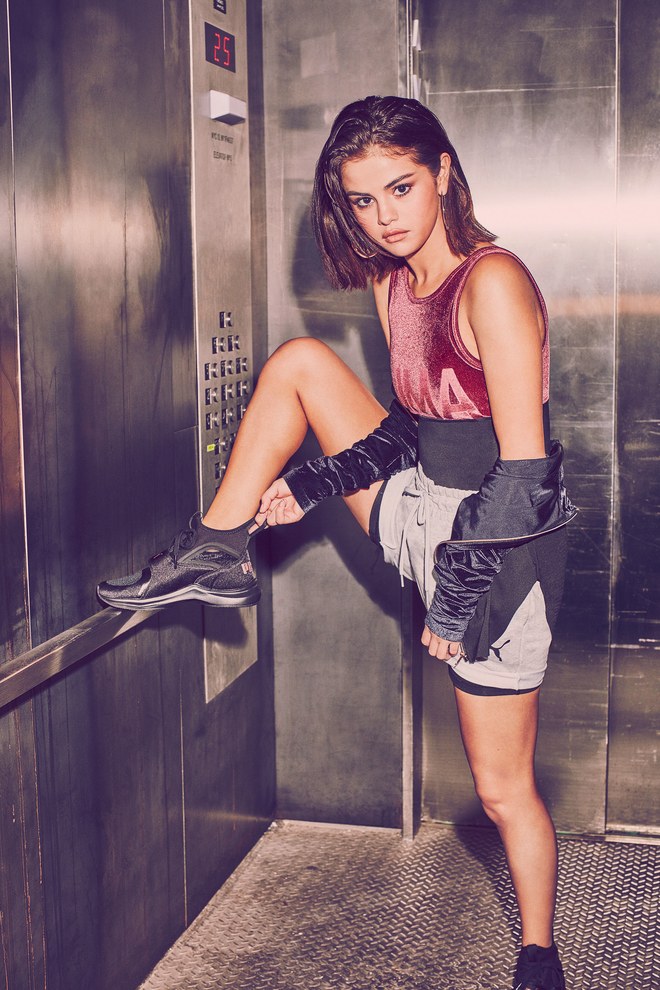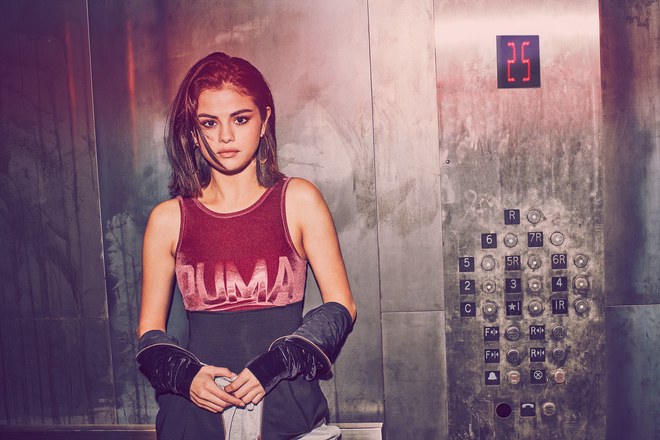 .
Selena said in a statement: 'Being part of the PUMA family is very exciting for me. PUMA has changed the game when it comes to the mash-up of athletic wear and fashion.
'It's amazing to see this influence on style and culture and I'm excited to be a part of it. I am hoping that we can create something special together. We already have some really cool projects in the works.
Selena is a perfect partner for PUMA because she is not afraid of the challenges our world can offer; she fights and perseveres, which is exactly what PUMA is all about.
'She will not only represent our brand, but she will help to define and enhance our women's business.'
The Weeknd has his own Puma Parallel sneaker which Selena has proudly shown off in the past.
Puma moves quickly, as just a week ago Selena was seen taking the images for the advertising campaign on September 9 on the streets of New York City before the partnership was announced.
source report that Selena saying , "I think it's become this collaborative thing where streetwear and fashion blend into one. It's a really beautiful thing because I see girls now feeling sexy in not even necessarily workout clothes, but clothes you could go work out in, then put on a cute pair of shoes and go out after," she said. "I want to make sure anything I put on, I feel good in, because how you're feeling on the outside really does affect how you are on the inside."