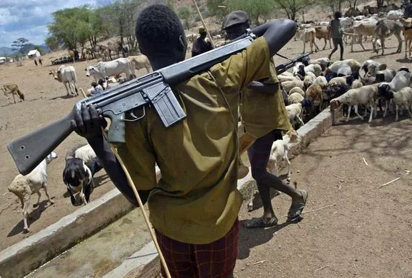 The Miyetti Allah Cattle Breeders Association (MCBAN), the umbrella body for Fulani Herdsmen have said that the nomads have the constitutional right to go to any part of the country to feed their cattle.
This is coming after threats of reprisal attacks from southern groups. The Agbekoya Farmers Association of Nigeria in the South-West; theMovement for the Actualisation of the Sovereign State of Biafra (South-East); the Independent Peoples of Biafra (South-East); and some ex-Niger Delta militants in the South-South have said that they will defend themselves if the Herdsmen attack again.
The Chairman, Miyetti Allah Cattle Breeders Association, Plateau State, Nuru Abdullahi who spoke to
SATURDAY PUNCH
said:
Why would they ask them not to go to the southern part of the country? It is their constitutional right to move freely as guaranteed by the laws of the land. What the various governments and security agencies should do is to prevent attacks and counter-attacks and such things that breed violence like cattle rustling and trespassing into farmlands.

The Constitution of the Federal Republic of Nigeria guarantees freedom of movement for every citizen of the country; this includes the right to live, work and carry out any legitimate activity in any part of the country. If and when you breach this freedom, then, the law should deal with you. So, asking anybody not to go to any part of the country is unconstitutional.
Also, the Chairman, MCBAN, North-West Zone, Ardo Ahmadu Suleiman, warned against criminalising all Fulani herdsmen over the attacks.
We are law abiding citizens of Nigeria. The constitution forbids anybody or group from banning anybody's movement from one part of the country to another. We have been staying peacefully with tribes across the country for ages. Therefore, for anyone to say he wants to ban Fulani from entering their land is uncalled for.