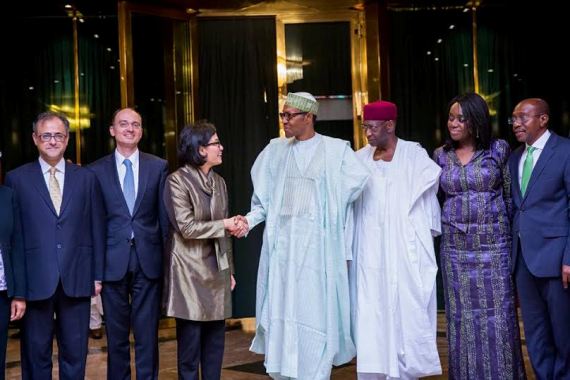 The Managing Director of the World Bank Sri Mulyani Indrawati, has commended the economic policies of the President Muhammadu Buhari-led administration which borders on security and stability, job creation and poverty eradication, and war against corruption.
She said this while briefing State House Correspondents after meeting with President Buhari on Wednesday at the Presidential Villa.
She also pledged the World Bank's support to help Nigeria "make the very important decisions" that will ensure a vibrant economy.
We see that Nigeria and the leadership of President Muhammadu Buhari is now launching the objective of restoring stability and security, the second one is creating jobs and eradicating poverty, the third is fighting corruption. I think these are very commendable goals and we discussed with the government about how we can support the law in order for the government and its leadership to achieve the goals.

We had the opportunity to meet with five governors of different states in order to discuss more on our programmes to support with the North-East region, especially dealing with Internally Displaced People and how to restore both the livelihood of the people with the development programme.

So, we discussed both in terms of what is the area of priority, the mode of engagement and the operational details of how this is going to be used in the most effective way. We also discussed more in terms of the need to diversify the economy away from oil.

We also discussed on how to improve the fiscal side with the minister of finance under her leadership and try to improve on the revenue side, whether to improve collection tax as well as to fight against inefficiency and corruption.

That is one of the areas which is commendable. We would like to support all these objectives in order for Nigeria to have a healthy, stronger and transparent budget, which can be very useful and effective in addressing the issue of poverty and creating a healthier and inclusive growth.

We had time to discuss with the President and the Vice President about the need of a wider economic agenda. We discussed about the agricultural sector, infrastructure, but also the need to pursue and continue doing a very difficult reform.

We would like to know how we can help Nigeria to make the very important decisions, whether on micro economic policy and other sectoral policy that will make this economy to move forward to become a strong middle income country to have a much more inclusive growth, to have a vibrant economic activity and creating job and eradicating poverty.