We arrived in Phuket and our driver welcomed us warmly. We chose to have a go at staying in an inn, more my recommendation, my travel pal wasn't sharp. From inquiries we asked the driver, we discovered that despite the fact that Patong shoreline is in Phuket. It was not so much in Central Phuket, so we definitely realized that we would not stay long in the inn. We looked at a couple of inns before setting meandering around Phuket city.
We burned through one night at the inn.
We took a trek to the celebrated Patong shoreline, such a large number of exercises were going ahead around there – that was the place we needed to be! We went to one of the inns we checked online; subsequent to looking, we were persuaded, so we made installments for whatever is left of our stay in Phuket. We were gotten with our things from the inn the following morning.
Contingent upon where you may get a kick out of the chance to stay, this worked for us. Bangla street is the place everything happens. The street that doesn't rest! We would not like to be right amidst the clamor so we stayed at Larn Park Resortel which was a fifteen-minute stroll to Patong shoreline or Bangla street. There was likewise a pool to come back to which was awesome! We did a considerable measure of things in Phuket so there will be more photographs than composing.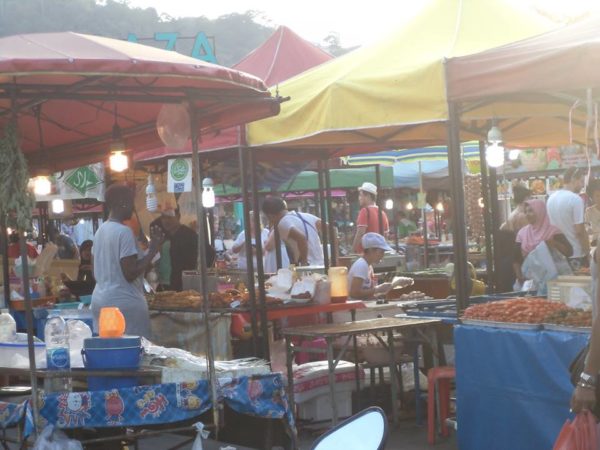 This food market was two minutes away from our hotel, easily accessible and it had variety. It was there all day till about 10 or 11pm.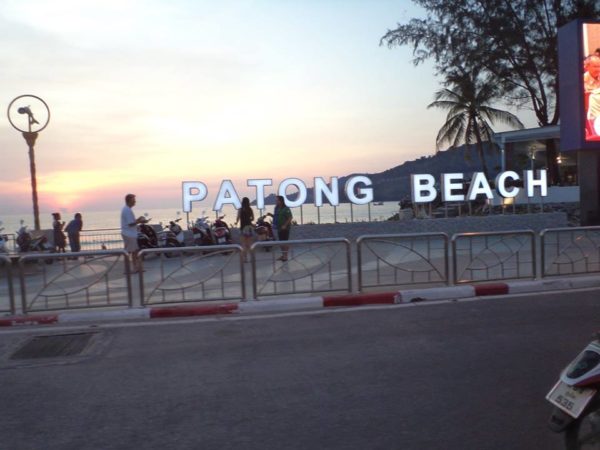 On each island, we had enough time to explore. We were nearly left behind once because we went far in!
Meanwhile, back in Patong…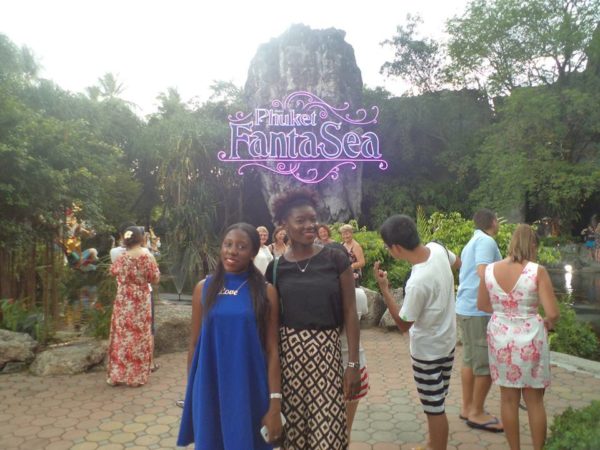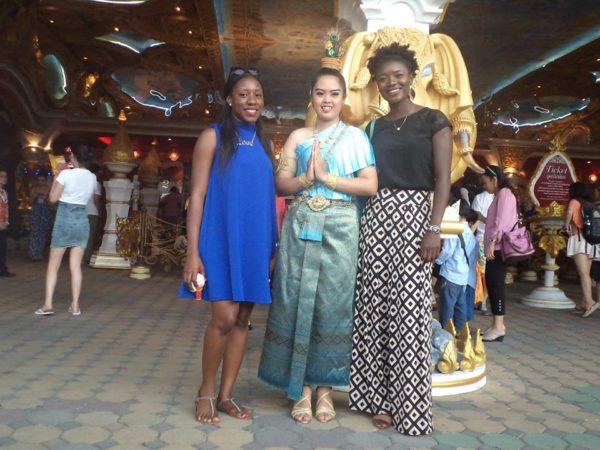 We went for this super amazing show where people and animals performed. It was very well coordinated and we enjoyed every moment of it. Then, it was followed by a 5-course meal. Yumm!
On this day, it was the Songkran festival which signified the New Year/Water festival. The whole day was all about water. From the previous day, water guns were being sold and people prepared with water proof pouches for phones and cameras, but we didn't anticipate that the day would be the way it was.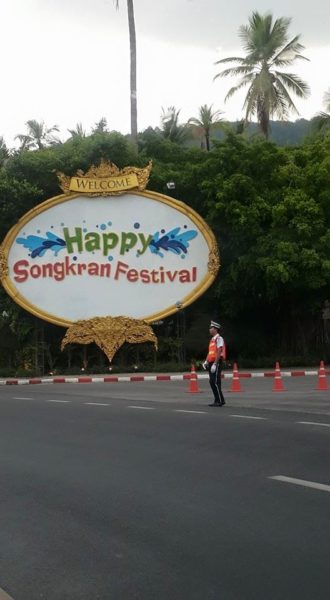 From the minute dawn broke, it was a water festival indeed! Nobody needed permission, water was poured on any and everybody. Some had face paint smeared over themselves and others. Some people had barrels of water and stood by the road waiting. There were hoses in the barrels that refilled as the water went down. Everybody was involved – old, young, tourist, local. It was fun!
I started the day by going to church – it was a Sunday. I was keen to see what a Thai service would be like, so I checked for a church close by and I was careful to check for one that had non-Thai speakers in mind. My travel buddy slept in.
It was different, but nice. As I so obviously stood out, someone came to sit beside me and did the translation. There were two of us who were foreigners. At the end, the older ones sat in a row outside and had water beside them. We filed out to greet them and they blessed people by dipping their hands in water and sprinkling on them or some poured a little. I asked what the significance was and I was told that it was the culture and as the day started a New Year, water was used to call blessings for the year – something like that. They served lunch. As we ate, I had a good conversation with a few people; then, off I went.
As I walked on the streets, water was thrown at me, poured over me. I had no water gun so I just walked through and enjoyed the whole thing.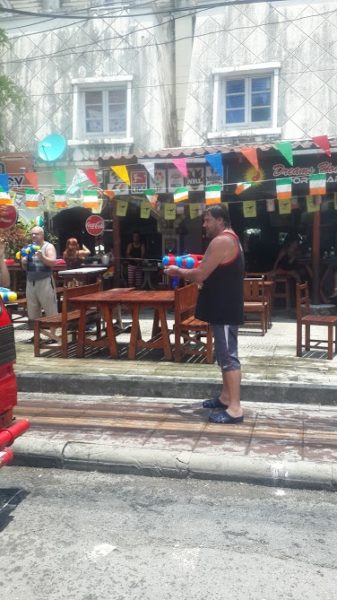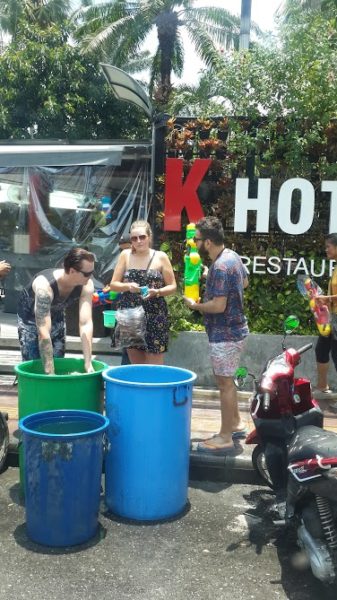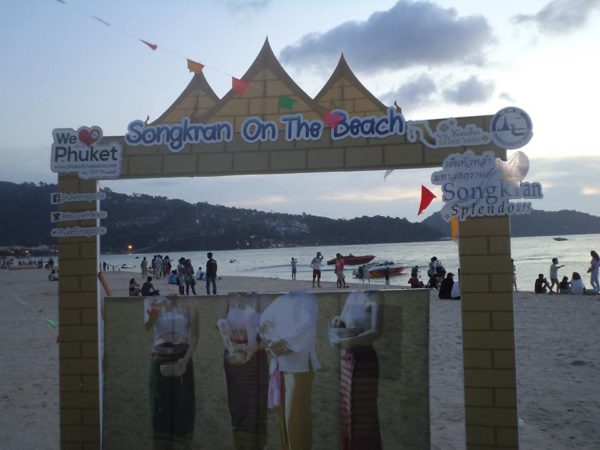 Old, young, local, tourist, everyone was involved. There were hoses everywhere for refills, the price of water guns was crazy that day! There was a mall off Bangla road that had an organised water battle. Guys took turns to hold the water hoses – the kind that are used by fire service men. It was a swim on the streets day.
The day after, we walked out half expecting water to be thrown at us, but sanity had returned. It was like nothing happened the previous day!
We went for a ping pong show…please check for yourself what that is. It is better seen than written about! Photos were not allowed so…
There was no slowing down through our stay in Phuket: the shows, the Islands, Bangla road, everything! It was such good fun, there is so much to do and I would recommend it happily!
On the next trip to Thailand, we hope to go to Chiang Mai… Who talked about travel club again?! Get in touch so we can get it started!!!